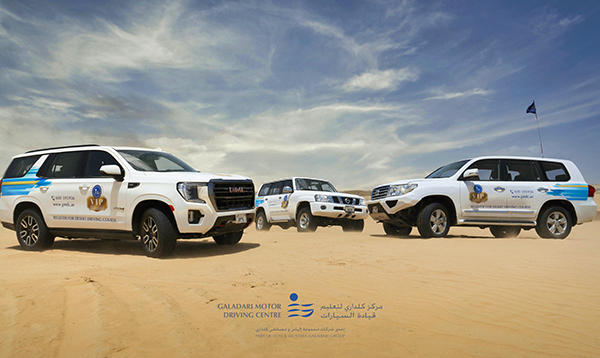 OFF-ROADING / DESERT DRIVING COURSE
Living in the Gulf and in close proximity to the desert dunes, exploring the dunes has become increasingly popular for tourists and residents. If you're keen on adventure and intend to enjoy the thrilling sport of off-roading, you will need to learn how to navigate 4×4 vehicles and learn to drive on the sandy dunes.
GMDC prepares you to gain the right skills with our Desert Driving courses enhancing your confidence and learning how to control your vehicle. Our expert Off-road instructors would be with you to ensure you smoothly navigate and discover how to handle your off-road vehicle especially during inclines and descents.
The first step is Inspection to ensure that your 4×4 vehicle is ready to go.
Navigation is next and you will learn how to expertly guide your vehicle through the desert and return to the same location staying safe throughout.
Self and Assisted Recovery is an essential skill that teaches you what to do if your vehicle is stuck and how to seek help.
Driving Techniques will be taught by our skilled instructors on how to easily maneuver your vehicle up and down the dunes.
The Survival aspect of this course gives you the main tips on topography and how to handle the environment including wildlife the right Actions so you remain safe.
This course is available to:
Residence, Expats, Tourists, and Safari Guides
4×4 vehicle owners to refine their driving skills and gain confidence in challenging environment
Course inclusions:
Each customer will get a manual during the training and a certificate issued by Galadari Motor Driving Centre.
Expert Off-road officers are in charge of tutoring and will share tips and their experience of handling challenging situations to ensure you are ready and confident to tackle the red sands.
Our brand new fleet of 4×4 Land Cruisers will be provided during this course so participants can develop their skills and gain significant understanding of vehicle control.
The following levels of Desert Driving course are available:-
For Residence, Expats, and Tourists:

Basic course
Advanced course
Emergency course
Self-drive course
Team-building course
Military course
Refresher course

Safari Guides
This is a special Safari Guide license for which a RTA test and approval is required.
FOR OUR OFF-ROAD TRAINING COURSES INQUIRE PLEASE CONTACT US: E-MAIL: SAFARI@GMDC.AE
‎ 600595956