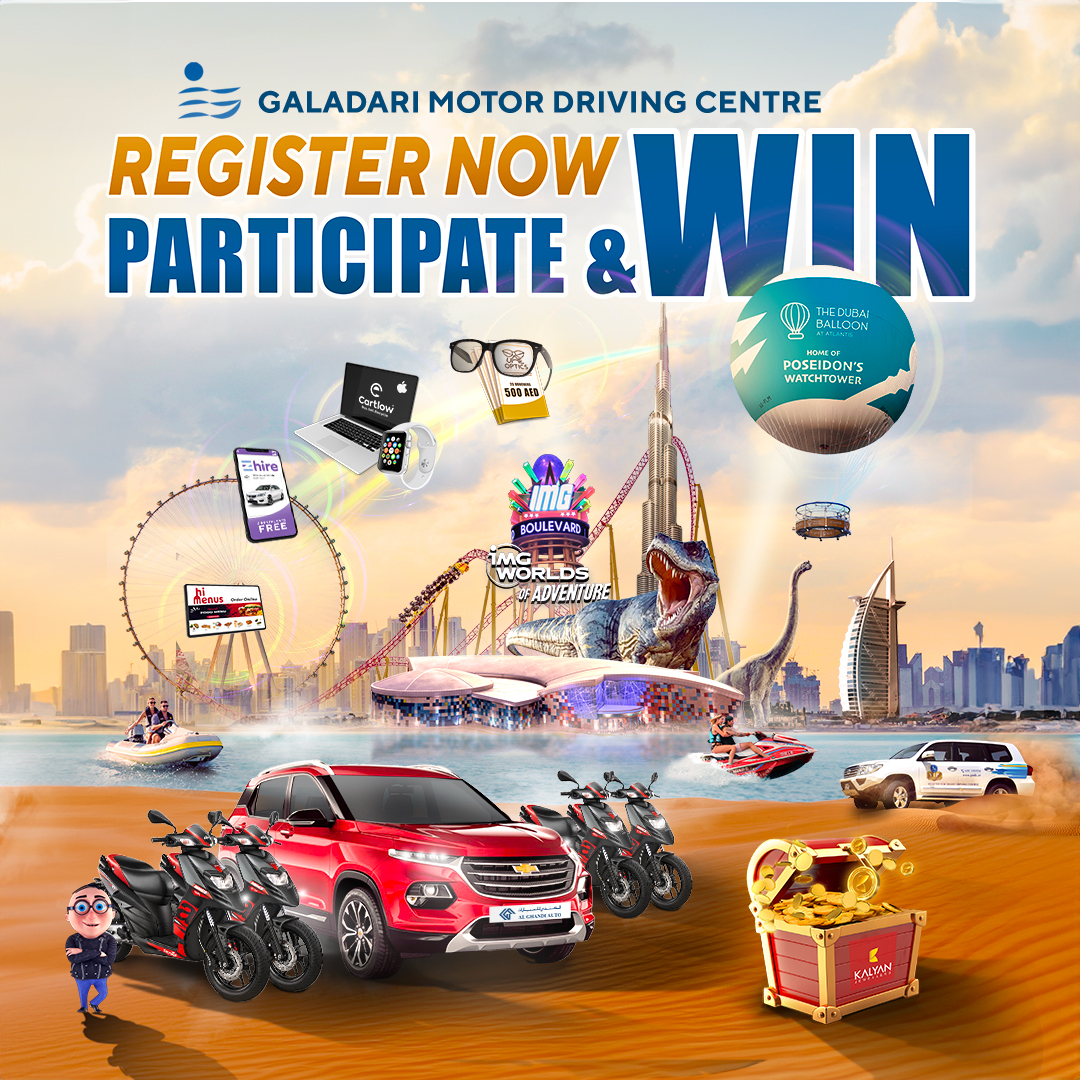 REGISTER AND WIN GIVEAWAY 2023-2024
15th November 2023 to 13th February 2024
Terms & Conditions
This promotion is valid from 15th  November 2023 to 13th February 2024.
Customer who registers as a student with GMDC during the promotional period under any category will receive a raffle coupon.
Winners will be announced on 13th January 2024 and 13th February 2024.
The winners will avail the following packages from GMDC:

One Lucky winner will win a brand-new Car Chevrolet Groove inclusive of Vehicle Insurance from the Insurance Market.ae
Four lucky winners win new Aprilia Bikes inclusive of Vehicle Insurance from the Insurance Market.ae
Two Lucky winners will win free rent of a car from Ezhire for 6 months
One Lucky winner will win One MacBook & and an Apple Smart Watch from Cartlow
40,000 AED worth vouchers for 200 winners from Kalyan Jewellers
Twenty Lucky Winners UAE Optical Vouchers
Five lucky winners will win Boat Experience from Hero Experience
Ten Lucky winners will win a couple of tickets for Air Balloon from Hero Experience
Five lucky winners will win free Couple tickets to IMG World of Adventure
Twenty-two lucky winners of Food Vouchers from the Himenus App
Ten Lucky winners will win free couple tickets for a Jet ski from a Luxury Jet ski
Ten lucky winners will win a desert driving course from GMDC
The winners will be randomly selected through a draw management system under the supervision of the Department of Economic Development, Dubai.
Prize winners will be officially notified by GMDC authorized staff using the customer information provided on the DED Raffle portal.
Winners must claim their prizes within 60 days of the draw date. To claim a prize, winners must present their raffle coupon and a valid form of identification to DED.
All winners will be required to comply with any formalities required by the Department of Economic Development, Dubai, and GMDC, which may include but is not limited to signing a prize acknowledgment form and providing GMDC with a copy of the such form.
The prize draw winner's name will be published on GMDC's website, Facebook and other social media pages and the Participant agrees to this publication. The winners agree to take part in reasonable post-event publicity and to use of their name and photograph in such publicity.